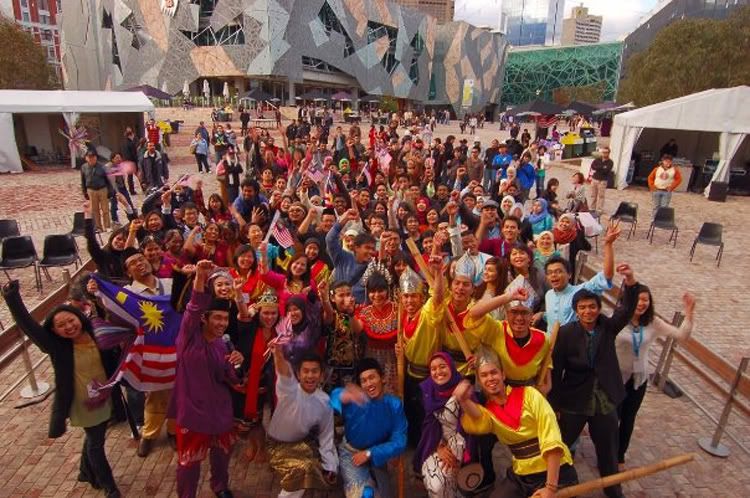 I rarely write about things that are personal here, at least not directly, but this is very much an exception to the rule.


Having our cultural celebrations at Federation Square, which is probably the equivalent of Dataran Merdeka, on the 31st of August no less, was something that seemed almost unachievable, especially by a group of inexperienced students, who for the most part, had never been involved in organizing anything on this scale.

And yet, despite the financial issues, despite the doubts, despite almost cancelling the event because we were unable to have food, despite missing assignments, classes, sleep and sacrificing our social lives, we managed to somehow, somehow pull it off.


I feel ridiculously light, as if the burden that was previously weighing me down has been lifted.



Thank you to the committee and volunteers, for without all of you, this would not have been possible.


Special thanks to
Yaya
and
Aqiesz
, the two amazing sisters who sacrificed so much, and almost single-handedly ran the whole event. I can only hope that my minor contributions made a difference, but without you two, this event would not have materialized.
To my partner in crime,
Lutfi Hakim
, whose contacts made for the diversity in the performances, and whose organizational skills left me blown away. I couldn't have asked for a better co-organizer for performances and the cultural walkthrough!
To the rest of the committee,
Al Zaquan
, If,
Syar
,
Ben
, Syairah and Mar, who were essential to this whole process, in your own departments. It has been a great experience working with the lot of you, be it in the early planning process or the final few days of hectic last minute preparations.
To all volunteers, thank you for time spent helping make props, manning the booths, helping set up, sparing your time for the volunteer sessions (especially Asiah, Rahmat and Azaliya – you guys are absolutely amazing!!!), and to
Faiz
, for taking time out from his busy schedule to help design one of the booths.
Special thanks to both my runners, Yit Meng and Linda, who helped me carry the event on the day.

To all the performers and emcees, thank you so much for making my job such an easy one. If the size of the crowd and the expressions on faces I saw on the day are any indication of a response, it is a good one, and I'm so glad that you were all able to be part of this event. To those dancers who had to withstand the cold weather in your light costumes, thank you for dancing your little hearts out despite the freezing weather.


To everyone who came, thank you for the support, despite being drenched in rain, despite the lack of food, despite everything – it was the support and spirit of everyone turning out to celebrate our culture, our independence day that made the event what it was.


I wish I could thank each and every one of you, involved top down, but I only know faces of some, names of others, and it would a list much too long and tedious to read through, but I thank you anyway.


Thank you for making this possible.


I humbly apologize for any shortcomings of the event, and I know some people are aware of those
shortcomings
, and I apologize for my own shortcomings as well.
Nevertheless, on a personal note, I am proud of the committee – yes, all you guys who I have worked alongside this past six months. I think we have achieved something spectacular, against the odds that we were not going to succeed.


Thank you for walking the walk with me.


Thank you for letting me be a part of this, at least once in my life.


Here's to Fiesta 2008! May the future hold many improvements, in hope, spirit and unity.


Happy 51st independence day.