Birthdays are not about expensive gifts. Birthdays are not about who big lavish celebrations. Birthdays aren't about cakes and candles. Birthdays aren't about huge nights out and having the best times of your life. Or at least not for me. I didn't need any of those.

I had more. I had the people I loved. Almost, asides from Nik, who didn't make it for reasons not entirely clear to me, and my loved ones back in Malaysia. I spent hours cooking for the thirty odd people who turned up, but it was worth having all my friends to celebrate with me. My actual birthday falls on a Tuesday, but the fact that people had classes didn't make the date a very practical date for celebrations.

I didn't have a cake, but people sang me happy birthday regardless.

I didn't have a huge night out but I had a great night regardless.

I didn't expect big things out of the night, but I got them regardless.

Some people gave me some really thoughtful presents. Chris gave me turqoise earrings, as did Sylvie, though her gift came with a matching bracelet. Mel's earrings were silver and Linah 'butt probe' also came with a bronze necklace with green beads. Siew, Fabian, Pin Jun and Halim, by guesswork or by memory, presented me with a Body Shop gift pack in my favourite scent - vanilla! Kirsty, Josh, Pei, Sam, Ivor, Shaun, John and Eddie put in money towards a fondue set - I can now make chocolate fondue. Oh god, I'm salivating already. My fridge is stocked with three different carriers of gourmet chocolate, and every single Cadbury chocolate ever in existence. Pudtz even drew me this in honour of my turning 21!

I have to admit though, that Hugh and James' gift really took me aback. I didn't expect anything on the scale of what they gave me - the delicate, white gold necklace must have been really expensive, but it was the thought that they must have put into it that really touched me. I love it. I love it to bits. I'm almost afraid to take it off in case I lose it.

Other events of the night were just funny, like the case with Faiz's gift. As most people handed me their wrapped presents, I would ask if I needed to refridgerate them, knowing quite well that most people would get me chocolate. As I was rummaging through the boxes of gifts in the fridge later on, I unwrapped a wooden Japanese doll from Faiz and Azreen! Faiz must have mistakenly nodded his head to my question without paying much attention to the actual words.

I have had more well wishers and card givers than I ever could have expected, more than I ever expected people to remember!

I wish I had more time to spend with my guests that night, but quantity is a trade-off with quality time spent with each and every one. I wish I had remembered to take my camera out and take photographs, but other things required my attention. Minor things, but the memories of the night are enough to send me into the week on a high, enough to keep me smiling at the sheer thought of the night.

And I am thankful for the company that I had, and the people I shared it with, and I am thankful that Nat and Azreen didn't actually get the stripper that I worried so much about.

My actual birthday was celebrated with less style, but just as much happiness. I pampered myself with a vanilla bubble bath, using the bath salts I had just gotten. Then Akmal surprised me by going out and buying KFC, just for us housemates to celebrate together in a smaller celebration, before going out for a movie with James and stuffing ourselves with pizzas and a DVD when we returned from the movie. And the long, heartfelt phone call from home. Well wishes from my youngest cousins and my mother's quick 'I love you'.

I keep adding to this entry because I am incredibly touched by the continuous barrage of texts and calls that I received, and the surprise gifts that people have given me in the week. People just come by to wish me. Nadiah dropped by with a card and chocolate. Jeen dropped by with a recipe book for fondues, to complement the fondue set, and Liz! Liz, with all her artistic talent, painted me a self portrait! It is absolutely gorgeous, and although I see the resemblance, I swear that the subject in the painting is so much more beautiful than I, or perhaps my view is affected by the emotions I am experiencing.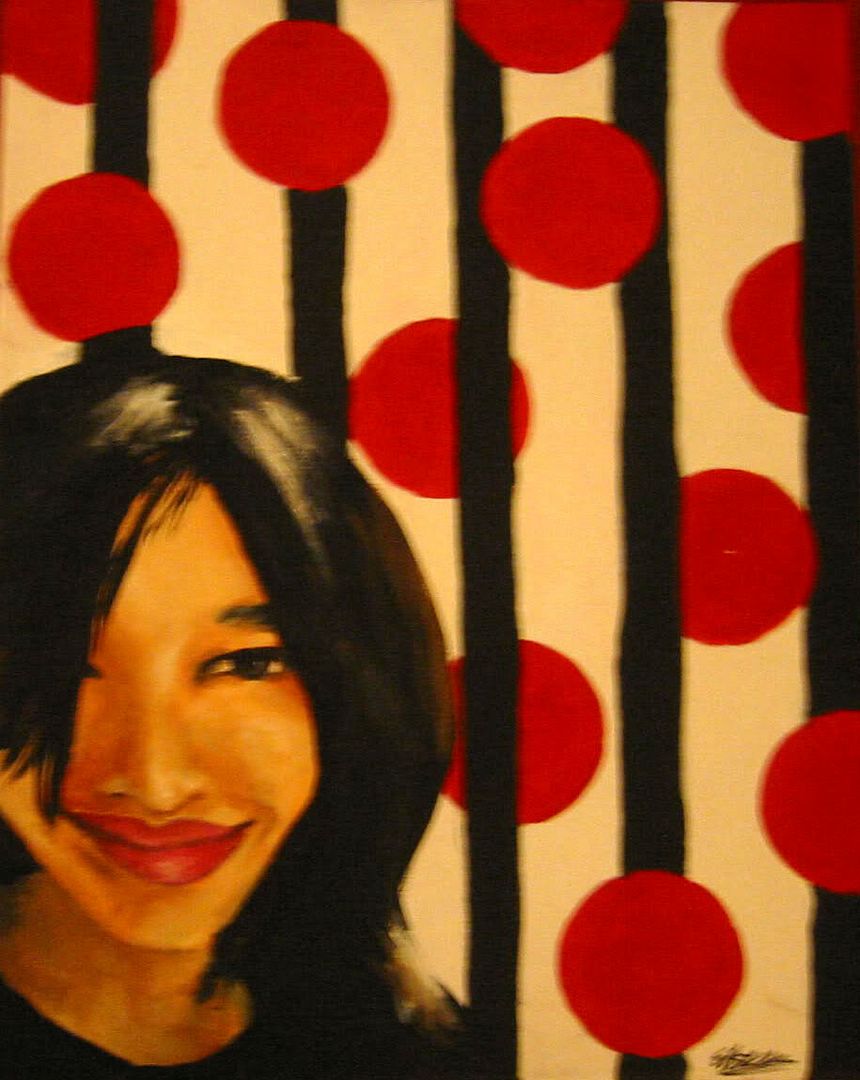 And today, mere hours ago, Nik surprised me with a mini-celebration with the girls. Lin, Hidayah, Rina, Usu, Nadiah and Nana all came together to celebrate my birthday. It started out with us girls, just having dinner and cake, having fun, and singing along to the songs that came on. And then they sang for me. They sang a song for me, and the words struck a chord in my heart, and I could feel the sting of tears in my eyes. The lyrics, about friendship, spoke volumes about my fears about growing further away from Nik, and I could see she was similarly affected. Sebak di dada. It is about adjusting to our new lives, and at that moment I felt as close to her as I used to be, and it was like nothing had changed. I knew we still had each other.

I have just realised how incredibly lucky I am. Words fail me.